Indonesia Investment Forum (IIF) 2022
The Embassy of the Republic of Indonesia in London in collaboration with the Central Bank of Indonesia's Representative Office in London and the Indonesia Investment Promotion Centre (IIPC) London presents the "Indonesia Investment Forum (IIF)" which will be held on 19 September 2022. This event will showcase investment opportunities in Indonesia and provides a platform for project owners and potential investors to discuss potential collaboration.

Format

1. Fireside Chat

2. One-on-One Business Matching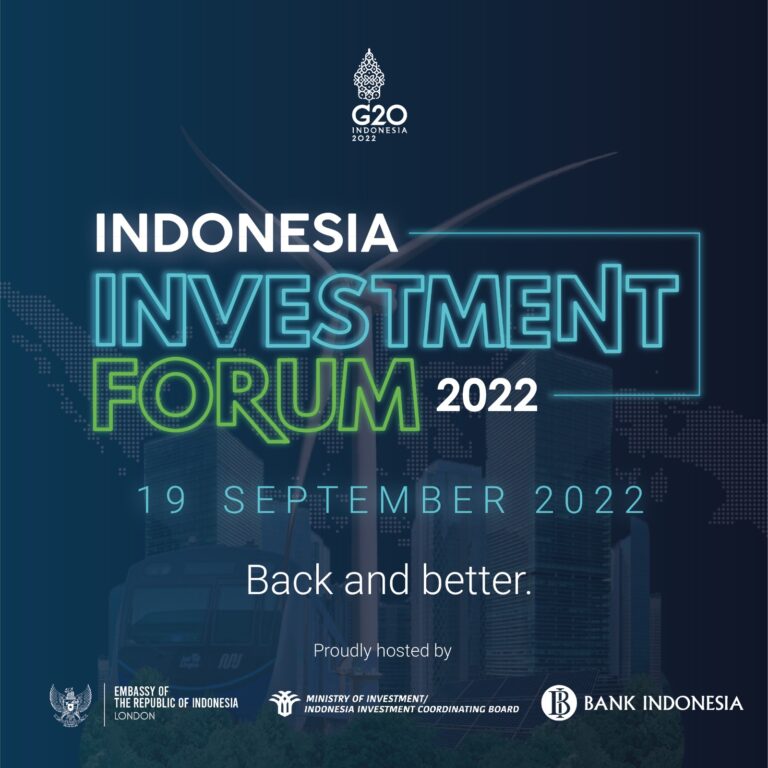 Fireside Chat Panel discussion
Institution of Civil Engineers, 1 Great George St
London SW1P 3AA

Join us in our discussion and Q&A Sessions on recent economic developments and updates on the investment landscape in Indonesia, as well as future investment policy plans.
09:00 - 09:25 BST: Welcoming Remarks and Keynote Speech
Dr. Desra Percaya

Ambassador of The Republic of Indonesia to the UK, Ireland and IMO
Bahlil Lahadalia

Ministry of Investment
Republic of Indonesia
Perry Warjiyo

Governor
Central Bank of Indonesia
09:30 - 10:15 BST: Fireside chat 1: G20 and Indonesian Economic Policy
Retno Marsudi

Ministry of Foreign Affairs of Indonesia
Dr. Perry Warjiyo

Governor of Central Bank of Indonesia
Bambang Susantono

Head of the National Capital (IKN) Nusantara
UK - ASEAN Business Council*

10:20 - 11:05 BST: Fireside chat 2: Accelerating Investment in the Southeast Asia's Biggest Economy
Bahlil Lahadalia
Ministry of Investment of Indonesia
Deputy Governor
Central Bank of Indonesia
Indonesia Fintech Association*
Indonesia Fintech Association (AFTECH Indonesia)
Chairman*
British Chamber of Commerce
Michael Lawrence
Asia House
11:05 - 13:05 BST: Business Matching